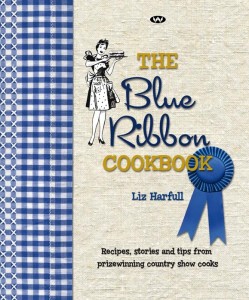 Every year hundreds of talented amateurs spend countless hours preparing entries for cookery competitions run as part of some 600 country shows across Australia. These cooks range from stalwarts well known and respected in their local communities for their prize-winning efforts over many years, to talented newcomers using tried and true recipes and techniques handed down from generation to generation.
Some of their stories and recipes have been captured in The Blue Ribbon Cookbook, published by Wakefield Press in September 2008. The book focusses on 50 South Australian shows and their top cooks, capturing their secret tips and the recipes they have used to win those precious first prizes and blue ribbons.
Now in its fourth print run, the best-seller was named runner-up in the Gourmand World Cookbook Awards announced in Paris in July 2009, after competing against 56 finalists from around the world. In April 2010 it was short-listed for the biennial Le Cordon Bleu World Food Media Awards.
Author Liz Harfull is now researching and writing a national version capturing more stories and recipes from across Australia. The book is due to be published by Allen & Unwin in March 2014.