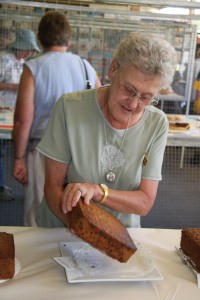 To coincide with the 30th anniversary of South Australia's State Fruit Cake Championship, its founder Margaret Hurst has been made a life member of the Agricultural Societies Council of South Australia. It is quite an achievement, richly deserved, for the highly respected judge and show cook from the Barossa Valley, who willing shared her tips for making the perfect fruit cake in The Blue Ribbon Cookbook. The council has bestowed life membership on only two other occasions.
The presentation took place last week after Margaret finished judging the 30th annual championship as part of the 2011 Royal Adelaide Show. This year's winner was Ann Colyer from Port Germein, who represented the Northern region of country shows.
Meanwhile another Blue Ribbon cook, Emma Kemp, from Hahndorf, finally pulled off her ambition to win the State Genoa Cake Competition. Emma has made the finals every year since 2007, and has built an enviable track record in the open cookery section at the Adelaide show. This year she won trophies as the most successful exhibitor in four sections – pastries, biscuits, large cakes and deserts – before taking out the overall most successful exhibitor award.
The show also held a men's chocolate cake competition for the first time, with Vaughan Wilson, from Wistow, a regional finalist in the fruit cake competition, just pipping another Blue Ribbon cook, Rex Liebelt from Strathalbyn.