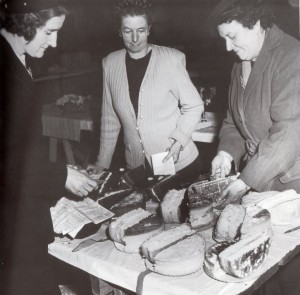 Today's recipe to help you prepare for Australia's Biggest Morning Tea is a wonderful, old-fashioned cake that is still found on most show schedules in Tasmania. It comes from Bream Creek show cook Judy Berry who regularly takes out the most successful exhibitor trophy at one of the best little shows in Australia. The Victoria cake is an elegant cross between a sponge and a butter cake, traditionally made with just a little butter and joined with jam. And to go with the recipe is a fantastic image from the show's archives of judging the Victoria cake class in 1948.
Don't forget  you can join Australian Blue Ribbon Cookbook author Liz Harfull and other authors for a special Twitter event as part of the Biggest Morning Tea. To participate jump onto Twitter between 10 am and 11 am EST on May 22, and use #TheTeaChest and #BiggestMorningTea. Visit the event's official page  for more information and to make a donation.
Ingredients
125 grams plain flour
¼ teaspoon salt
¼ teaspoon bicarbonate of soda
½ teaspoon cream of tartar
3 eggs
125 grams castor sugar
2 tablespoons milk
30 grams butter
½ teaspoon vanilla essence
1 ½ tablespoons raspberry jam
1 tablespoon icing sugar
Preheat the oven to moderate (180 °Celsius in a conventional electric oven). Grease two 20 centimetre sandwich pans, and line the bases with baking paper.
Sift together the flour, salt, bicarbonate of soda and cream of tartar.
Beat the eggs and sugar in a medium-sized mixing bowl, until thick and creamy. Gently fold in the dry ingredients.
Combine the milk and butter in a small saucepan and bring to the boil over a medium heat. Pour the boiling milk gradually into the cake mixture, folding gently as you go. Fold in the vanilla essence.
Divide the mixture evenly between the two prepared pans and bake for about 15 minutes, until the cakes are golden brown and begin to leave the sides of the pans.
Allow to cool for a few minutes and then turn out onto a clean tea towel.
When cool, join the cakes with raspberry jam and dust the top with icing sugar.
Tips from the cook
Do the folding with a spatula, making sure you scrape the outsides of the bowl to incorporate all the ingredients.
The cake marks easily so use a tea-towel with a fine, plain weave.
Don't use too much jam – it should be spread thinly, right to the edges but not over, so that just a little jam shows when the cakes are put together.
If you are making it for home, add a layer of cream to the filling.
Tips from judge
Both layers must be made from the same mixture.
The cake should be a pale golden biscuit colour, well risen and light, with a flat top and a fine texture.
Check the show schedule for specific instructions about filling and decorating the cake in case there are local variations.